Council Bluffs Cosmopolitan Club 
The Club That Fights Diabetes
Non-profit 501 (C) (3) Organization
The Council Bluffs Cosmopolitan club meets on the 2nd Tuesday of each month at 7 am at Village Inn on Madison AND the 4th Tuesday at 6:30 pm at the Spillway off of Madison across from Dairy Queen.
We meet starting in September and run through May and we take off for the summer.
The meetings alternate between a morning meeting and an evening meeting to help accommodate all of our members schedules!
We take pride in providing great speakers for our educational experience, and we also donate funds each year in the support of the Mobile Diabetic Testing unit in conjunction with Nebraska Methodist College. Check out our Mobile Testing unit on the tab above…
You will find that we are a warm and friendly group that exists not only for the promotion of a cure for diabetes, but also for having a good time with our fellow members and significant others.


DONATE – YOU CAN HELP BY DONATING – CLICK TO DONATE
100% of Donations go to assist the purchase of Diabetic Alert Service Dogs
Your Donation is Tax Deductible.  We are a 501 (c) (3) organization


Become a Cosmos
Make Friends.  Have Fun.  Help Others.
Millions of people go through life without ever being asked to join a dynamic service club in which they make quality new friends, serve their communities, all while having FUN!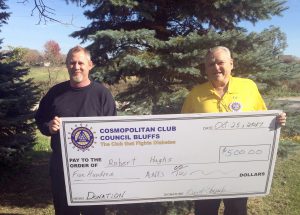 Robert's anxious for Dog
Robert Hughes Age 50
Winterset, Iowa
Diagnosed Type 1 in 2007
Will receive dog 6 months ?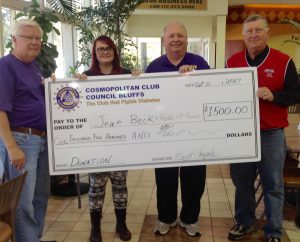 Jena's down payment starts the journey
Jena Beck Age 26
Council Bluffs, Iowa
Diagnosed Type 1 in 1999
Will receive dog 6 months ?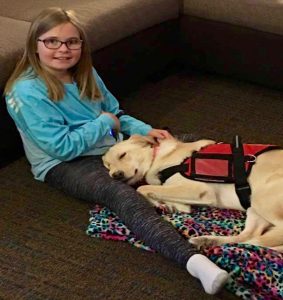 Kaleigh's News Update
Kaleigh was just selected to be the "poster child"
for the GI local JDRF  fundraiser sponsored by HyVee.
Received "Izzy" Oct 2017

Kaleigh Kuusela Age 9
Grand Island, Nebraska
Diagnosed Type 1  Jan 2017
Receiving IZZY Oct 27th

         Click to Read Article Cosmopolitan Club helps diabetic woman buy alert service dog  
Click to Read Article Cosmopolitan Club helps diabetic woman get alert service dog Article Oct 18, 2017
Click to Read Article Cosmopolitan Club helps diabetic woman buy alert service dog Article Jul 25, 2017